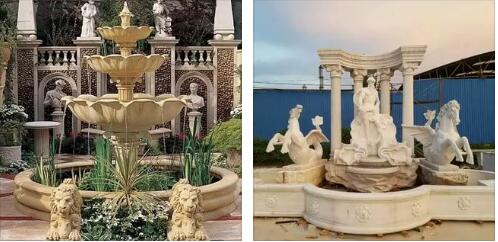 Beautiful water fountains offered by Yingti are elegantly crafted from natural marble. Marble fountains are something which can enhance anyone's home. Its breath-taking beauty due to intricately crafted marble makes it a wonderful addition to your garden. We can custom create a marble fountain for you in any type of stone and in any dimension you require. We offer very competitive pricing and can create a fountain to match all budgets. Installation of these marble fountains is quite simple and can be done by a home improvement contractor.
For over ten years we have made marble fountains for private homeowners, office buildings, resorts and other large development projects. Our attention to detail is second to none and we guarantee complete satisfaction with your marble fountain. Please feel free to contact us to assist you in creating the perfect marble fountain for your home, business, development project or community.
Our hand carved water fountains include wall fountain, sculpture fountain, lion fountain, horse fountain, fish fountain, big pool fountain, outdoor fountain and landscaping fountain. Material we have marble, travertine, Crema Marfil, sandstone, limestone, granite and so on. All of them can be produced according to your request of specifications and material.